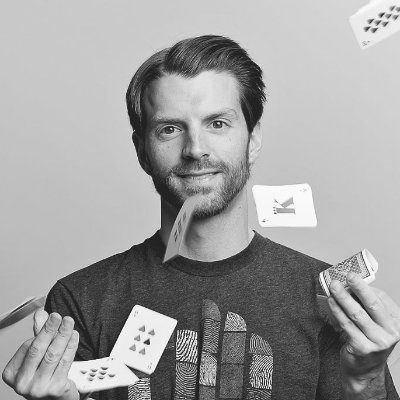 Andy Stewart
Design + Code
A designer working to make technology feel more human through compelling brands and clear interfaces
About
Hi, I'm Andy, a designer working at the intersection of brand and technology. For over a decade, I've helped companies turn ideas into experiences across a variety of media and touchpoints, from visual identities and installations to websites and apps. My work is defined by a love of aesthetics, technology, and delightful interactions, and I have a track record of creating elegant design solutions that solve customer problems and meet business goals.
Work Experience
2020-2023
Digital Design Director — Turnstyle

↗
Seattle, WA — Hybrid
Led digital design efforts and presentations, and worked cross-functionally throughout the project lifecycle, including scoping, strategy, UX/IA, interface design, and development.
Communicated design intent and brought notional ideas to life by developing prototypes at varying levels of fidelity using Figma, After Effects, and/or HTML/CSS/JS.
Ensured quality and fidelity of implementation by collaborating closely with development to contribute production-ready code and conduct quality assurance testing.
Continuously improved and evolved our design process by vetting new tools and tech.
Helped coworkers level up their digital design skills—with a specific focus on Figma and responsive web design—by conducting regular internal workshops.
2018-2020
Led and/or contributed to a wide variety of projects including identity, packaging, print, and digital design for clients including Microsoft, Teague, Vulcan, and the Port of Seattle.
Audited and overhauled our digital design process from first principles in collaboration with studio leadership.
2015-2018
Independent Creative — Andy Stewart Design, LLC
Seattle, WA — On-site
As a one-man design shop, I translated ambiguous ideas, values, and dreams into clear strategies and effective design solutions by working directly with clients and collaboratively with other studios.
Managed all steps of a project, from business development through final delivery.
Teaching
2020-2023
Over the past couple of years, I've lead the charge for our team to adopt Figma for all digital projects. As part of this effort, I facillitated regular workshops with our team—some of whom were familiar with Sketch, but some of whom were still designing sites in Illustrator—to talk about Figma and responsive design more broadly.
2018-2022
I've been involved with SVC for almost as long as I've been in Seattle, and began teaching classes there on visual and UI design in 2018. I enjoy working closely with students, helping them internalize concepts through a mix of lecture, discussion, hands-on assignments, and critiques.
2016-2018
My first foray into teaching was actually through screen printing. I loved being able to show people, especially those of use used to staring at screens all day, how to roll up their sleeves and sling ink around.
Education
References
Andy's among the most self-motivated, hard-working and thoughtful people I've ever worked with, and he's an incredibly fast learner. He's highly organized and a great systems-thinker, but somehow manages to balance that with a strong creative streak that means he's able to innovate within structured systems. He'd be an asset to any organization looking for a smart, dynamic and curious design and tech leader."
Ben Graham, Turnstyle, Owner/Creative Director
I cannot overstate the impact Andy has had on both my professional growth and our collective success. As a developer with a background in design, I have had the opportunity to witness firsthand how our combined strengths led to the creation of some of the best work of my career. Andy possesses a unique blend of creativity and technical expertise, and he consistently goes above and beyond to ensure that our collaborations result in top-quality deliverables."
R.J. LaCount, Turnstyle, Lead Developer
No matter which hat Andy was wearing, he approached every assignment thoughtfully, artfully, and with a high degree of professionalism and collaboration. There aren't many folks out there who are as solid at their craft as they are at their ability to clearly explain their approach. So, if you're looking for a triple or quadruple threat, Andy's your guy."
Larry Asher, School of Visual Concepts, Director
Andy has brought a unique skill set and perspective to our studio. Not only is he an incredibly talented designer, but we have relied on him for his technical and digital expertise. Andy has been proactive in understanding what tools and resources are available, testing them out and making recommendations back to the team so that we are staying ahead of the curve. Additionally, Andy has established strong rapport and trust with the client teams."
Stephanie Cooke, Turnstyle, Director of Client Relations and New Business Development
Select Skills
Digital Strategy
Web Design
Wireframing
Prototyping
Identity Design
Motion Design
Art Direction
Generative Design
Front End Development
UX/IA
Illustration
QA + Testing
Figma
Illustrator
Photoshop
After Effects
HTML/CSS/JS
React
Svelte
Tailwind
Typescript
P5.js
VSCode
Github